"If you've been eyeballing this system, don't wait years like I did, bite the bullet and buy it, you won't regret this :)" — C.M.
"Love it. Total butt kicker."
S.B
"Have had mine for about 3 yrs and can attest to its adaptability and build quality regardless of your chosen martial art. It's worth the investment."
A.C.
"Just bought one. It's as good as it looks. Definitely worth the money."
D.W.
"My gym has one. Well made, very sturdy."
G.G.
"A follow up, I've had mine for a while now and it's great. I get my workout in during my lunch as I work from home… It's a great investment if you're training to get into the ring or just need a good workout, it's worth every penny."
L.S
"I love it… can't walk by it without throwing a couple of combos… 😂😂😎🥊🥋
T.H.
"Many positions, angles, and adjustments available with this system. It takes everything you can give and more. It's like having 2 trainers holding multiple targets at the same time. I absolutely love it!"
R.W.
"This is amazing. I've had one for a while now and have never been disappointed. My strikes, knees and kicks are much tighter and my form has improved significantly as well. Amazing product!"
T.D.
CUSTOMIZE
ADJUSTABLE FOR SIZE & TRAINING REGIMEN
Pads have hundreds of combinations of adjustments for height, width, angles and pad rotation
Adjust to the perfect height - head can go as height 6.5' or as low 4'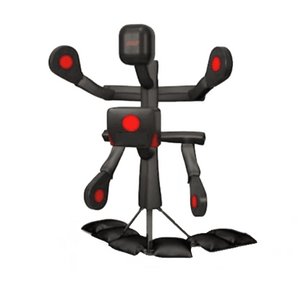 COMPARE BAS TO OTHER WORKOUTS!